Donation $2000; Deposit $500
Printable Registration Form  |  Online Registration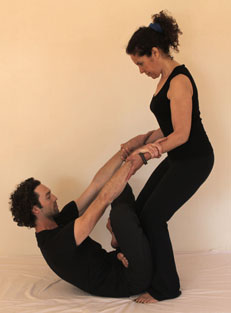 Traditional Thai Massage is an ancient practice with its roots in Yoga, Ayurvedic medicine and Buddhist spiritual practice. This unique and complete system combines rhythmic massage, acupressure, gentle twisting, deep stretching and meditation. It releases tension, increases vitality and creates wholeness of mind, body and spirit in both giver and receiver. The movements and adjustments you will learn are a valuable compliment in Yoga teaching.
Join us for nine transformational days at the beautiful White Lotus Foundation, nestled in the mountains above Santa Barbara on land once sacred to the Chumash Indians who called it Taklushmon--the Gathering Place. During this week you will either begin or deepen your practice of Yoga and meditation. Legendary vegetarian meals and free time to hike, swim in natural rock pools, read or just soak in the hot tub will complement this week of learning and rejuvenation.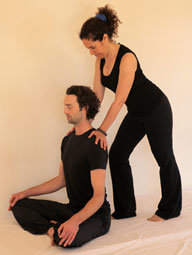 In this course you will learn:
To structure and give a full-body Thai Massage
Theory and massage of energy lines (meridians/nadis)
Restorative Yoga poses to facilitate deep relaxation
Applied Yoga stretching exercises and breathing exercises
Principles of energetic work
Basic tools to work with special conditions
To use Thai Yoga movements to adjust, balance and correct asanas
To work in a meditative state of mind
To help the receiver to experience a deeply relaxed altered state
History and theoretical foundations of Thai Yoga
An introduction to and practice of meditation (vipassana and other techniques will be taught)
This course is the equivalent of a two-week program taught in Thailand
This training is open to everyone. It is a great additional modality for Yoga teachers and massage therapists or for anyone interested in well being and bodywork. The work is done in comfortable clothing on a mat. You will have a wonderful experience of learning and rejuvenation with hours of nurturing massage. No prior Yoga or massage experience is necessary.
Certification
All Participants successfully completing the course will receive a certificate of completion. Those wishing a Thai Yoga Practitioner certification will be given a home study/practice assignment to fulfill after the course.
Sample Daily Schedule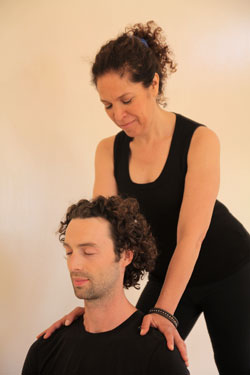 6:30 AM
Morning meditation
7:00 AM
Yoga, asana, pranayama
9:00 AM
Light breakfast
10 AM - 1 PM
Thai massage class
1:00 PM
Lunch and free time
4:00 PM - 7:00 PM
Thai massage class
7:00 PM
Dinner
8:00 PM
Evening Program
(free time, meditation or discussion)
Review of Thai Program by J.R. Epps
Participants In Their Own Words
Read what our graduates have to say: Yoga Alliance Reviews
Please See Our Calendar for Dates
Tax Deductiblity: Your Tuition may be tax-deductible.  For More Information Click Here
Donation $2000; Deposit $500
Printable Registration Form  |  Online Registration