Brief History of the White Lotus Foundation
The White Lotus Foundation began with the opening of its first Center in Los Angeles in late September, 1967 at 5355 Sunset Boulevard. The impetus to start the Center came after Ganga had studied Yoga for a year and had just returned from intensive residential training at the Sivananda Ashram. Ganga, Billy Bahr and Radha McGowan were the original team assisted by Ganga's brother, Stan White. There were no start up funds so Ganga worked his old electronics job; and Radha her Union Bank job; in order to pay the bills. The first and second members of the Center were Yogi and Mrs. Ernst Haeckel, original builders of our present retreat in Santa Barbara.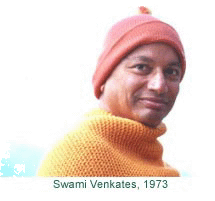 The Center was located in a former beauty school with business and living quarters so the staff could live onsite creating a warm and homey atmosphere. Walls were knocked out, flyers posted, and hundreds of hairpins pulled out of the carpeting. Ganga had attained a high level of mastery of the asanas and his lecture-demonstrations given around town quickly filled all the classes. For the first few months of operation only a donation bowl was put out. Very often
with a class of twenty there would only be a few dollars in the bowl. Donations rarely averaged over $1 per person. Charles Hobby, Jim Ellis and Tom DeSilva were three very early members who helped form the Foundation. Charlie donated furniture and often brought food when finances were low, Jim set up the bookkeeping and Tom DeSilva, an attorney at the time, formed our nonprofit corporation. Were it not for the support of people like these the Center would have closed.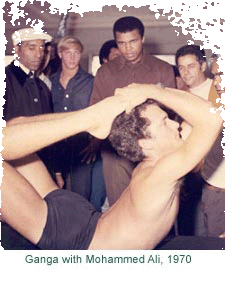 The Center grew very quickly and after six months the small first quarters were not sufficient. Ganga scoured the town and located a space at 115 N. Larchmont that was being used as a John Birch Society book warehouse. The owner didn't want to rent it "to a group of Hindu hippies" but after a favorable front page article in the L.A. Times on the Center he relented. A place of darkness was changed to a place of light. The staff worked day and night cleaning the warehouse. They found that the facility had once been a dance hall and uncovered wonderful hardwood floors! They set about knocking out walls and refinishing the floors. A Yoga deck was built on the roof and classes boomed with standing room only. The Center was the first stopping place of visiting Yoga dignitaries. This was the turbulent sixties! Yoga was exploding and taking root in America. Ganga gave demonstrations at the Human Be-in and the first Love-Ins. He also flew in Swami Vishnu's peace plane over the War Moratorium demonstration in San Francisco dropping flowers and peace leaflets. Times were exciting.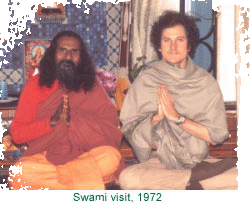 Ganga became vice president of the Sivananda Organization and the Center was host to a constant stream of Yoga luminaries. Yogis, Swamis, Rimpoches, Tibetans and spiritual leaders from many traditions were regular speakers at the Center. In 1968 Ganga organized and led what was most probably the first Yoga Teacher training in the US - The In-Depth Yoga and Teacher Training. In 1969 a national tour was organized and he gave Yoga lecture-demonstrations at universities, new thought churches, and centers. Yoga was often called yogurt and fun was poked at yogis in pretzel positions. The Foundation opened centers in Washington D.C. and later in San Francisco, and in 1970 the Yoga Farm Retreat, in Grass Valley, California. In the early 70's tours were conducted to Europe and study groups were taken to India. Peter Sellers and other celebrities were amongst the hosts and students.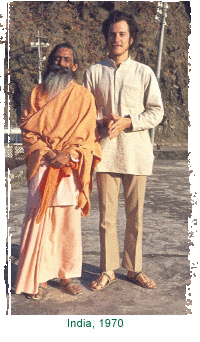 Ganga was often featured in TV interviews, stories and in Hollywood films. During this time the Foundation also broke its direct ties with India and the Sivananda organization and became independent. This was partially precipitated when numerous financial and other duplicities of the head Swami in America came to light. The Swami tried to sue and take over our organization but in a legal meeting his own attorney agreed with our side and convinced the Swami to withdraw his case. The Swami then was forced to pay back several bad loans to students he had borrowed money from, at which time, except for the Center for Yoga in Los Angeles, the other centers Ganga started were given to local staffs and the Swami's organization. Similar things of this nature happened in other Yoga organizations. White Lotus mission became Dedicated to the Development of the Total Human Being and to elucidating a free, open and contemporary approach to Yoga.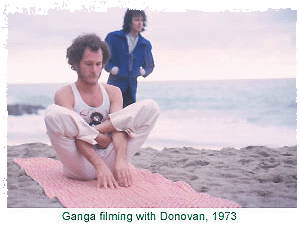 In 1976 the Foundation hosted BKS Iyengar and began a long series of workshops that introduced Iyengar Yoga to the greater Los Angeles area. During this year the Foundation began a search for a property suitable for creating a Yoga ashram retreat. We nearly acquired a large ranch house on the San Marcos Pass in Santa Barbara but the Board decided not to close escrow because of improper zoning. Then, with the help of our generous friend, Clarence E. Minnerly, Paradise Kutir, a house-retreat in the national forest was purchased instead. Classes, workshops and regular weekend retreats were held. In 1977 the L.A. Center moved and expanded into a former Masonic Lodge building. 
Again massive renovations were done by the staff. It was a large brick building with a 40 x 65 foot asana room with 24 foot ceilings and maple floors. It became one of the most beautiful, influential and dynamic centers in the US. In 1978 Double Yoga was published introducing a new system - Yoga asanas with a partner. The Center hosted K. Pattabhi Jois as well a series of workshops introducing Ashtanga Yoga to the greater Los Angeles area.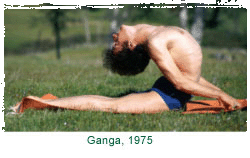 1983 was a major milestone for the White Lotus Foundation when Tracey Rich brought her grace, insight, artistry and vision to the Foundation. Nine months later our retreat-ashram-headquarters in Santa Barbara were acquired from Yogi and Mrs. Ernst Haeckel, our first and second members back in 1967! It had long been Yogi Haeckel's wish to have Ganga on board with him and see the Center completed during his lifetime. White Lotus began to pour all of its energy and resources into fulfilling this mutual dream. It took three years of clean up, renovation, construction and love to bring the Center into full operation. Ruth and Yogi Haeckel lived at and were taken care of by the center, watching its growth and fruition until their passing in 1990. The retreat now enjoys an international reputation for excellence. Yoga students come from around the world for courses and to learn a broad vision of Yoga and to be trained as teachers.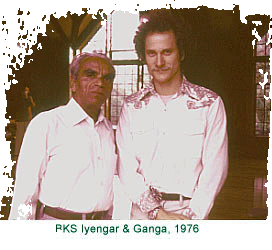 The nineties started off with a blaze. The biggest fire in Santa Barbara history began near the entrance to our retreat during a teacher training program. Within a couple of hours 600 homes were reduced to ashes. The fire blazed for three days and burned up to, and stopped at, two of our property lines without serious damage to the Center. The retreat was used as a base for firefighters.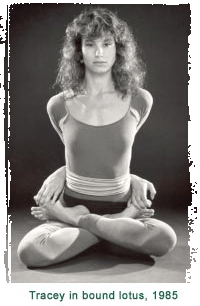 Our program continued at a nearby hotel and the center was back in operation within a few weeks. Landslides and floods also accompanied this decade. We were able to make many improvements to the retreat during this era, some nudged by the not so gentle hand of nature. Paul Cooke, noted English sculptor and one of our original builders, spent the better part of this decade with us. His touch graces every nook and cranny of the center. Beatrix Rohlsen, executive chef, joined the staff in the nineties, making the retreat's cuisine legendary. Beverly Messenger signed on as office choreographer bringing her beautiful flow and creative, loving energy to White Lotus.
During the mid nineties White Lotus participated in Amazonian Rainforest preservation efforts, the Brazilian Earth Summit, and hosted a series of gatherings and sacred ceremonies with rainforest Shamans and Maestros. The first Yoga workout video, The Flow Series, was released and helped create the wave of yoga videos. The Flow Series is practiced and taught around the world. 
In 1994 our Total Yoga I was produced and later became the number one Yoga video worldwide and in the USA with sales now approaching 1.5 million and still going strong. In 2002 the first high definition videos, Earth, Water and Fire, were released by Time-Warner and quickly received critical acclaim setting a new standard for detail, quality and beauty in Yoga videos. The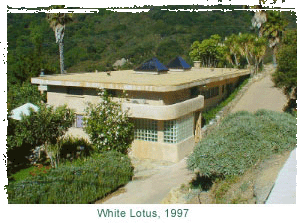 Foundation also continues to host numerous celebrities and prominent leaders, as well as retreats and events with leading teachers in the Yoga community.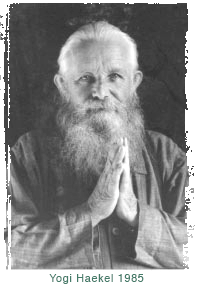 As we move into the new millennium White Lotus hopes to continue to realize its goals and dreams on higher, more effective levels. New improvements to the retreat are being planned. Ganga has completed his book "Yoga Beyond Belief - Insights to Awaken and Deepen Your Practice" which presents a broad and contemporary vision of the teachings of Yoga for the 21st century. We look forward to your continued participation and support.