L.A. Yoga Magazine Profile on Ganga
January/February 2005 Volume 4/Number 1
Teacher Profile: Ganga White
For Forty Years those in the Know have been Asking Ganga White
By Julie Deife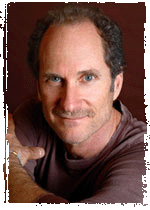 He saw the word 'yoga' scrawled on the sidewalk in front of his elementary school in Tujunga when he was ten. Someone walking by told him that yoga is what people India do, in the mountains, and they don't need to eat. Ganga White decided he wanted to know more about yoga.
Today, almost forty years later, Ganga White is one of the most respected – and most quoted in various publications including the L.A. Times and the LA Weekly– yogis of our time. If you want to know history of yoga in Los Angeles, ask Ganga. If you want a balanced opinion on a yoga issue, ask Ganga. If you want to know what 'flow' yoga is, ask Ganga - he is the first person to use the term 'flow' to describe a style of yoga that he teaches.
The word Ganga means flow, like the Ganges, and from the moment he took his first yoga class in 1966, Ganga's life his been immersed in the river of yoga. "That was it," he says. "I never thought of doing anything else after that." "That" was a class he took by accident. He thought he had circled a class on 'higher consciousness' instead his pencil marked 'yoga.' He smiles and his green eyes sparkle as he reminisces on the synchronicity of events that brought him to where he is today. It turned out that the 'other' class was centered on the teachings of J. Krishnamurti, whose work he also later came to study.
His quiet, easygoing manner and soft voice belies the unceasing determination with which he has spent practicing, studying, questioning and evolving. "We always tell our students to question," he says. Ganga doesn't believe a student should have blind faith in a teacher, as teachers who ask that of their students tend to be controlling and dictatorial. However, nor should students question relentlessly, as merely a habit. Yet, questioning is one attribute he strives to foster in his students because to Ganga, yoga is an evolving science and art.
He talks about the misconception people have about hatha yoga because the work of Patanjali (Yoga Sutras), a work almost always used in credible teacher training programs, only just alludes to asana practices – and that depends on whose translation is used. But as a student of yogic texts, Ganga is emphatic in his assessment that Patanjali simply didn't know that much about asana because yoga is by its very nature evolving, and Patanjali's work predates much of what has been learned about asana since the 12th century.
Ganga also brings up the possible fallacy in believing that the rishis (sages) transmitted from the ether everything there is to know and therefore everything there is to know is in the Vedas. Is there new information to be learned, that they didn't know? "Absolutely," says Ganga.
This perspective has contributed to the fact that Ganga is known in some yoga circles as a rebel. He takes that as a compliment and responds this way:
"There is so often an almost automatic acceptance of the authority of anyone with an accent or quotation from the East. Once I found my own vision and footing I began to look beneath the surface and question authority and felt free to critique and challenge the words of the grandfathers. "
Ganga White is a curious mixture of past, present and future. While founder of Center for Yoga in Los Angeles is one of his identities, as is 'flow' yoga, as is first person in the U.S. to offer a yoga teacher training program, he is also presently the director of the White Lotus Foundation in Santa Barbara.
White Lotus' retreat center is the tangible part of the foundation, and it is a work of art. Perched above the Pacific in the San Marcos mountains the property boasts a waterfall and swimming holes, numerous yurts, fire circle, four directions sacred space, underground kiva, apartments for residential living and a large structure with yoga rooms, open kitchen, offices and a retail store that melts into its surroundings. Craftsmanship and attention to detail is evident in the main room, which contains the library, as well as throughout the property. Ganga is the visionary, and along with his wife and partner, yogini Tracey Rich, they are the heart, soul and artisans.
White Lotus can accommodate up to thirty people at a time and while primarily a place where Ganga holds trainings, it is also available for rent to other teachers and on a daily basis tovisitors seeking the natural serenity it offers. It is a modern day sangha where Ganga nourishes himself and continues to think about the future of yoga and its evolution.
He has just completed a book, which he hints expresses a view that is different from the norm. Acutely aware of the environment that yoga exists in today and has taken its form resulting from market forces, he is more than anything, justcurious. He is as eager to hear what I think as I am to know what he thinks. The Yoga Alliance is a point of discussion, and it is interesting that White Lotus has opted not to be a registered yoga school with this organization.
"Spirituality is part of yoga, and how can that be determined as part of training?" he wonders. He is also concerned about yoga being broken up into 'parts', i.e. yoga therapy because "yoga by definition is therapy." But, he is a proponent of integrative therapies, and who knows what shape that will take within the scope of Western medicine. He also ardently supports research that will prove what a practitioner such as himself already knows.
There are not a lot of people in the U.S. who have done for yoga, what Ganga White has. Fortunately for yogis in the U.S., he's still at it.
Ganga White and Tracey Rich's 4 best selling Total Yoga videos have just been released on DVD.
All Rights Reserved.
Copyright © 2002-2004 LA Yoga Magazine