White Lotus Yoga
An Article on White Lotus' 16 day residential
Yoga Teacher Training Course
From Yoga Journal, March, 1994
By Anne Cushman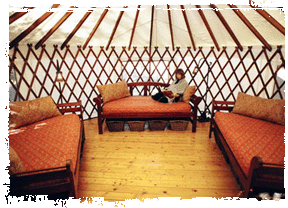 In the summer of 1990, in the middle of the White Lotus Foundation's 16-day Yoga teacher training program, a brush fire erupted about 100 yards downwind from the center's driveway in the Santa Ynez mountains in Santa Barbara, California. The ensuing firestorm raged for four days up and down the drought-parched valley, destroying over 600 homes and melting power lines for 13 miles. While continuing the teacher training in a nearby hotel, White Lotus directors Ganga White and Tracey Rich tuned in to radio reports indicating that their Yoga center was going up in smoke. But when they returned to inspect the damage, they discovered to their amazement that the devastation had neatly skirted the boundaries of their 40 acres. Flames had roared to the very edges of their land, defining the property line on three sides, then had turned back. The only damage, Rich reports, was a "fine layer of sacred ash."
Magic and miracles have been associated with this site for as long as human beings have inhabited the surrounding coastal mountain range. For the Chumash Indians, the canyon was a sacred healing spot known as Taklushmon, or "the gathering place." It was blessed, among other things, with a stream that never dried up, even in the severest droughts. When an eccentric German-born mystic known as Yogi Earnest Haeckel purchased the land from the federal government in the mid-1940s, he built on this spiritual foundation by constructing a small Yoga and meditation center–adding, in the 1950s, a well-stocked bomb shelter where he and his students could take refuge from radioactive fallout.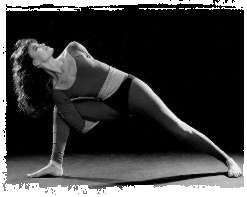 STUDENT/GUEST ACCOMODATIONS FOR RESIDENT STUDENT PROGRAMS ARE IN COMFORTABLE "STATE OF THE ART" YURTS! When White and Rich acquired Haeckel's property 11 years ago, they wanted to create a shelter of a different sort–a sanctuary where people could retreat from the fallout of their daily lives to soak up the healing power of Yoga in a pristine natural environment. Their White Lotus Foundation offers a wide variety of workshops in asana, pranayama, meditation, tantra, and Yoga philosophy, along with ongoing weekly classes. At the heart of these offerings is the 16 day residential teacher training program, a nonsectarian guided tour through the vast and variegated landscape of Yoga history, philosophy, and practice.
In this high-density, total-immersion course, twice daily asana classes (one emphasizing a complete, flowing practice, the other concentrating on alignment, detail, and instructional techniques for a few key postures) are combined with pranayama and meditation instruction, teaching practice, and video feedback. Nightly lectures address topics such as Yoga history and philosophy, the physiological and therapeutic effects of asana practice, vegetarian nutrition, holistic health, and Yoga business strategies. But far more important than the content of the course, says White, is the attitude toward Yoga it seeks to cultivate. Through decades of practice and study with masters from a wide range of traditions, White and Rich have distilled a fluid, creative teaching style that's aimed at "setting people free". "We're giving you a way of learning and doing Yoga that's open, flexible, and not attached to any dogma, ritual, or sectarian approach," White tells the 24 students who have gathered in the spacious, book-lined lounge on the first evening of the training. "Then you can leave and study with any teachers you want to–even the most dogmatic and authoritarian–and still learn something from them." White himself has spent more than 30 years cultivating just such an openness of body and mind. His spiritual journey began in the mid-1960s, when he undertook the study of Eastern philosophy with an Indian professor of religious studies who was also a Zoroastrian high priest. Fascinated by his teacher's lectures on Yoga, he traveled to India and began intensive study with various Yogis in the Sivananda lineage–primarily Swami Vishnudevananda, whose then newly published Complete Illustrated Book of Yoga was selling briskly among America's flower children. White soon emerged as one of the key figures in the burgeoning Hatha Yoga movement in the United States. Peter Sellers became his student; Muhammad Ali requested a private demonstration; and Donovan narrated a documentary about the "new spirituality" that featured White doing asanas on a California beach. Within a few years, White became vice-president of the Sivananda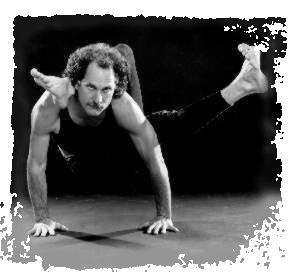 organization and began opening studios and ashrams all over North America, including his own Center for Yoga in Los Angeles (which he finally sold in 1993) "At Sivananda, I got a broad overview of classic Yoga philosophy and learned a lot about traditional Indian systems," he recalls. "I met many, many Yogis and swamis and had very deep experiences of physical and spiritual opening." However, he gradually became frustrated with what he perceived as an excessively hierarchical and dogmatic tradition–and disillusioned by the gap he noticed between what was taught and what was lived. ("Once, I walked in on a swami beating up his secretary," he recalls. "It blew my mind.") When his increasingly probing questions were ignored– "once you accept a teacher you're not supposed to question any more"– he left the Sivananda organization and began traveling around India on his own, looking for teachers who would encourage his inquiries. He found one in Swami Venkates, renowned as "the laughing swami," a Sanskrit scholar and Hatha Yoga master whose motto was "never take anything too seriously." Venkates introduced White to J. Krishnamurti, who encouraged him to keep on questioning authority and trusting his own inner wisdom. "I felt a great release and freeing, as if I'd thrown off a lot of dead weight," he says. "Instead of an efforting toward enlightenment, Yoga became a lightening up."
While continuing to study with Venkates and Krishnamurti, White explored new Hatha Yoga paths as well. He refined his sense of alignment and Yoga therapeutics by training several times with B.K.S. Iyengar, including a month-long intensive for teachers held in Pune in the mid-1970s. (" There were only about 15 of us in the class, so you can imagine what it was like - he killed us ," White jokes about the notoriously demanding Iyengar. "If you're a teacher, he likes to break you down."). He was also strongly influenced by the vigorous, flowing Ashtanga Yoga taught by Pattabhi Jois, with whom he studied in Hawaii in the early 1980s.
It was in Hawaii that White met Tracey Rich, a Yoga teacher from Nashville, Tennessee, whose gentle, intuitive teaching style–her primary teacher had trained in the Kripalu tradition–had been laced with fire by intensive Ashtanga practice. Unlike White, Rich had never been particularly interested in Indian culture or traditional Vedic philosophy. "I was a classic '70s teenager–lots of sex, drugs, and rock and roll," she jokes.
Searching for something deeper, she sampled Hatha Yoga in her early 20s and was instantly enchanted by both the sheer physical pleasure of the asana practice and the peace of mind it brought her. Finding that her body easily melted into even very challenging postures, Rich began teaching after only six months (at the urging of her instructor, June LaSalvia, a friend and confidante who "pushed me out of the nest at an early age"). Drawing on her own inner investigations and her love of dance, music, and poetry, she gradually developed a playful, spontaneous approach that encourages students to improvise and explore.
White and Rich's "Yoga romance" quickly led to a long-term partnership, and in 1983 the two merged both their lives and their unique teaching styles to launch their Santa Barbara retreat center. "We wanted to create a place where people could come to have an experience of Yoga," Rich recollects. "We wanted to give them a taste of a total lifestyle–a radically different way of living–so they could make transformational choices. "
At this they have succeeded admirably. As a visitor descends the dusty dirt driveway into their canyon retreat, the traffic sounds from nearby Highway 154 fade away, replaced by the wind rustling through groves of live oak, bay, and sycamore. The stucco studio perches on the rocky hillside amidst landscaped gardens resplendent with roses, tiger lilies, iris, orange bushes, and fig trees. While soaking in the redwood hot tub or lounging on the lawns and sun decks, guests overlook a panoramic view of valley, mountains, ocean, and the distant sprawl of Santa Barbara, which seems as remote as another planet.
At the bottom of the valley, Skumuwash Creek–the name is Chumash for "to have arrived"–sings over giant boulders of sandstone and granite. Between classes, students scramble through the woods to a swimming hole fed by a waterfall, where they dive naked into icy water and bask on sun-baked ledges. During my visit, I spend hours lying on warm, water-smoothed boulders, watching dancing slabs of light, reflected upward from the green surface of the pool, playing on the undersides of the overhanging rocks.
At night, guests sleep in yurts or domes tucked away in the oaks, where we're sung to sleep by crickets, frogs, and the yapping of coyotes. The full moon paints black silhouettes on the translucent walls of my creekside tent, creating a delicate batik of crisscrossed leaves and branches. Awakened by a rustle in the underbrush one night, I open my eyes to glimpse the silhouette of a fox stalking through this diorama like a figure in a shadow play.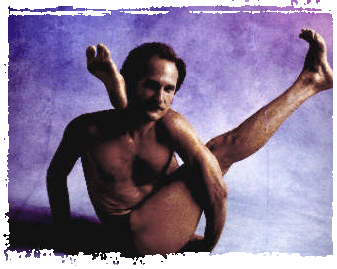 This intimate connection with the rhythms of the natural world is a crucial part of the curriculum at White Lotus. "I think the waterfall and the wind and the birds teach you more about Yoga than we ever can," White maintains. Another important element is what one student refers to as "the classes in experiential nutrition." Gourmet vegan lunches and dinners are designed to dispel the myth that meatless, dairyless, whole-foods cookery is ascetic fare: We feast on dishes like polenta-spinach pie with tomato basil sauce; black bean enchiladas with guacamole, soy cheese, and vegan sour cream; fresh-baked muffins and breads; and tofu cheesecake with fresh figs. One evening, a spread of curried vegetables, orange-pear chutney, basmati rice, and homemade chapatis is accompanied by sitar music and a slide show depicting the highlights of White's many travels in India.
All levels of students are accepted into the teacher training program, from rank beginners who want a comprehensive introduction to practice, to experienced teachers who want to expand their repertoire of knowledge and techniques. In the program I attend, one student is an Ashtanga Yoga instructor with a body as flexible as a contortionist's; she has come to learn more about the philosophical context of asana practice. Another is a former Air Force officer, stiff as a bayonet, who has just retired after 20 years in the service. (Like a good soldier, he performs his newfound practice with dedication, but reflexively stands at attention between poses.)
Several students come from tiny rural towns with no Yoga instructors, where they've been diligently practicing from books and videotapes. Like missionaries armed with a fresh supply of tracts, they plan to return to share their newly discovered knowledge with an eager congregation of would-be Yogis. While Rich and White acknowledge that two weeks of classes won't turn a novice into an expert, they insist that's not the point of their program.
"It's like making yogurt–after you put the culture into the milk, it takes time for the milk to turn into the yogurt, but the process has been initiated," White explains. "White Lotus 'certification' just means that the culture is in the milk. People have gotten a visceral, nonverbal feeling of living Yoga–as well as a comprehensive set of teachings, practices, and techniques. This culture will continue to work within them for months, even years, after they leave here."
At White Lotus, the primary vehicle for transmitting this culture is the "Flow Series," the backbone of the Hatha Yoga curriculum. All students are required to practice -- and learn to teach–this challenging 90-minute routine, a carefully sequenced set of classic postures synchronized with deep, rhythmic breathing. As Rich explains in the videotape Yoga: The Flow Series, the graceful, uninterrupted stream of asanas "builds cardiovascular strength and stamina, cultivates mental and physical balance and flexibility, creates great upper-body strength, and tones and stimulates the internal organs. It increases oxygenation and circulation, builds excellent back strength, and creates an overall sense of deep relaxation."
YOGA FLOW SERIES: Tracey Rich and Ganga White The series begins with Sun Salutations and standing poses to build heat, strength, and endurance. At the peak of the routine, once the body is warm and flexible, backbends are practiced to energize the spine and promote vitality, followed by calming and introspective forward bends. Twists release the spine as the body begins to cool down. The practice concludes with inversions and pranayama to tone the endocrine system and recharge the energy body. Throughout the series, the practitioner maintains ujjayi breathing, a pranayama technique in which the breath makes a whispering sound as it passes over the back of the throat. This practice slows the breath down and draws the attention inward, helping to create a meditative state.
The Flow Series is designed as a complete, meditative workout that both stretches and strengthens every part of the body. However, this standard routine is far from written in stone; rather, it's presented as an infinitely adaptable skeleton structure that students can adjust, improvise upon, or even abandon altogether, as their own needs dictate.
"We believe in adapting the Yoga for the person, rather than trying to fit the person to the Yoga," White maintains. Within the basic framework, easier or more difficult poses may be substituted as appropriate. Students are taught how to use props to modify postures for people with special needs. At all times, students are encouraged to listen to and respect their own body's needs–as well as the needs of the people they teach.
"Postures are tools for exploring yourself, not goals you're trying to achieve," White continually reminds us. "Your body is not just a vehicle to perform the ideal asana." When one student asks Rich–who is using an extremely inflexible beginner to model Trikonasana -- to demonstrate the pose "correctly," she looks genuinely baffled. "But he is doing it correctly!" she replies. "For his body, with his level of muscular tightness, this pose is absolutely perfect." "After all, what does it mean to be an advanced student of Yoga?" White asks. "Perhaps you can do advanced poses, but if you're practicing with a lot of competitiveness, ego, and self-righteousness, then you're still a beginner." "You have to continually ask yourself why you're doing this practice," Rich adds. "Remember that what you're really doing is committing yourself to a path of self-investigation and self-transformation through a physical form."
In some classes, White and Rich abandon the prescribed series altogether to give us a taste of an entirely different style of practice. Rich likes to lead us through dance-like sequences–some vigorous and aerobic, others slow and soothing–in which the poses flow into each other in unexpected combinations, shattering our preconceived notions about "what comes next." One morning, saying that "the asanas live intuitively in us," she puts on gentle background guitar music and asks us to spend an hour and a half improvising according to our own inner inspiration.
"Don't move until you find your connection to your own inner impulse. Let your movement be inspired," she instructs. In this kind of practice, she says, it's essential to distinguish thought-inspired movement–based on ideas about what pose ought to come next–from body-inspired movement. "Stay still until your body tells you where to move next," she insists. "When you practice in this way, your practice becomes a prayer to yourself." Practice can also be a way to relate to another person. In a class in "Double Yoga," White and Rich show us how two people can flow through a series in synchrony, maintaining physical contact and using each other for balance, leverage, and support. On a physical level, this practice can help us get into poses we couldn't otherwise accomplish, White explains. On a psychological level, it reveals our habitual ways of relating to other people. " Are you expecting the other person to hold you up? Are you pushing too hard? Are you blaming the other person for everything that goes wrong?" he asks us. "You have to meet each other as equals, with attunement and receptivity and a free flow of information back and forth, in order for the Double Yoga to work."
White and Rich maintain that this experimentation with different styles of Yoga practice is crucial. "It's essential to vary your practice–not just the particular series you do, but also the attitude you take toward yourself and your practice," Rich says. "Some days you want to work at your edge, expand your limits. Other days you want to be gentle and comfortable."
After all, says White, Hatha Yoga literally means the union of Ha and Tha -- the energies of sun and moon. "Any pose can be done in a Ha or a Tha style -- hot, vigorous, and strengthening or cool, relaxing, and peaceful. It's important to know how and when to use either approach ."
Above all, it's essential to keep an open mind toward different approaches to practice, even those that contradict your own preferred style. Asserts White, "Hatha Yoga is meant to be a journey into greater awareness and understanding, not a journey into more conformity, rigidity, and external rules."
This same iconoclastic attitude reigns in White's evening lectures on Yoga history and philosophy, held in the cozy common lounge adjoining the kitchen. Under the mischievous eyes of an enormous wooden laughing Buddha, White offers us "an overview of Yoga doctrine filtered through my own heretical opinions." He clearly and succinctly summarizes fundamental topics like the distinctions between the major types of Yoga (Hatha, Raja, Bhakti, Karma, Jnana, and Tantra), the eight limbs of Patanjali's classical Yoga, and the contributions of various great sages and teachers. At the end of the training, a formal exam poses questions like "What are the benefits of the Headstand?" "List the names of the seven chakras and some of the principles associated with each," and "What are a few of the major reasons most Yogis are vegetarians?" But at the same time, he warns us not to get bogged down in the letter of the law. "For just about anything you want to do, you can find sanction in the ancient texts," he tells us. "Eat potatoes, don't eat potatoes. Be celibate, get enlightened through sex. It's all there. The bottom line is that you have to think for yourself and awaken your own understanding. "
White peppers his talks with juicy anecdotes about the foibles of famous teachers, both living and dead. He informs us that one well known Yogi with a worldwide following is actually a former Indian customs agent who fled the country to escape charges of drug smuggling; and that another respected organization was once temporarily taken over by a middle-management Swami who claimed to be channeling the ghost of a deceased master. Even the ancient sage Patanjali, the first to formally codify a body of Yogic teachings, doesn't escape White's irreverence. "We don't have any idea who Patanjali even was! All we know is that he wrote down some teaching–we're not even sure whose," he points out. "Imagine that you write down your notes on me teaching this class–and 2,000 years from now, your notes are all that's left of Yoga, and people are arguing about what they mean. In the long run, you can't rely on conforming to someone else's insights. Patanjali's Yoga Sutras are only useful as a catalyst to precipitate your own understanding."
Ultimately, that's the whole point of White Lotus' insistent challenges to the sacred cows of Yoga–not to belittle the ancient teachings, but to bring them to life within each student. It's precisely because White himself cares so much about the spirit of Yoga that he insists upon scrutinizing its teachings so critically. For paradoxically, it's only by questioning doctrines and techniques that we can contact within ourselves the living source of wisdom from which they spring. "We're always looking for strict rules because life is chaos, and we're trying to resist that chaos by making a straight and narrow path. But the truth is that that kind of path is actually very boring," White maintains. "What we're really craving, if we look deeply, is the change, adjustment, sensitivity, and balance that make life–and Yoga–interesting. It is my hope that the White Lotus program will help people discover that truth for themselves."
The White Lotus Flow Series is designed as a complete, meditative workout that stretches and strengthens every part of the body. "Hatha Yoga is meant to be a journey into greater awareness and understanding, not a journey into more conformity, rigidity, and external rules." says White.
Anne Cushman is associate editor of Yoga Journal. This article originally appeared in the March/April 1994 issue of Yoga Journal. 1994 Yoga Journal. Used with permission. All rights reserved. For subscription information, call (800) 359-YOGA.