A Vigil
by Tracey Rich
When news of an illness comes to a member of a community, everyone holds their breath, like when one listens for an intruder in their home. There is a communal held breath. Collective attention is drawn to a central focus. Wakefulness dawns in its fullest sense and we wait in a heightened state. The clarity of the bell that calls us to meditation begins to reverberate. Alert to every nuance and fluctuation, an individual and collective vigil begins. And we learn to wait, watchful, still, as ever- present as possible.
The mind would like to spiral, filling itself with thoughts both hopeful and desperate, accepting and rejecting, measuring time in contrast to timelessness. The mind would like to run in and out, hopscotching, jumping over cracks, doing something constructive, anything but settle into the suspension of the great waiting of living in the unknown. And yet, we learned to wait.
Everyday for a month, our community, which spread around the globe and consisted of friends, and friends of friends, and family of friends, and strangers who would become friends, waited for news of our mutual friend's well being. We sometimes forget in the daily act of living that well being isn't just in the trajectory of living well, but also of dying well. And so we waited, alert for signs as to the direction of the wind.
A vigil is a preparation which one begins with emptiness, openness, and intention. The intention to show up and sweep the space clear for each moment to make its call. Each moment fills up, and each moment falls away like the breath and the tide, rhythmic, but full of tiny fluctuations.
When the bell tolled and the wind...
In Memoriam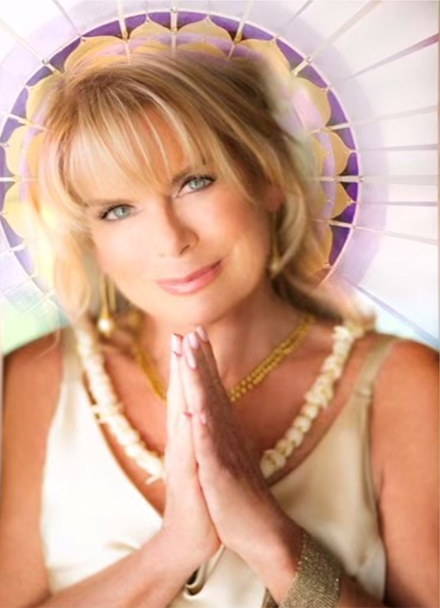 Sandra Hay Marshall
It is with the utmost love and respect that Ganga and I, and the White Lotus Foundation, would like to honor the recent passing of one of our closest personal friends, longtime students, and advisory board members, Sandra Hay Marshall.
Sandra's passing has created ripples across numerous communities as one of her great gifts was deeply accepting people and connecting people all across the globe. She was a dancer, a producer of films, a lover of music, a yogini, an adventurer, and an exquisite communicator of the spiritual. The film on the opening page of the White Lotus website was produced, directed, and gifted to the Foundation by Sandra. Sandra, you will be missed by so many.
Our dear friend was...
From the White Lotus Kitchen
Summertime Portobello Skewers
Get out the grill. Memorial Day is around the corner and summertime is not far behind. This recipe offers two options. These portobello skewers can be marinated and thrown on the grill, or sautéed in a pan and then served on skewers. Either way, skewers are the ticket to summer festing, utensil free, eating outside, safe gathering.
Most edible mushrooms have great health benefits. Portobello's contain selenium, copper, potassium, B vitamins, and fiber amongst the elements that make them healthy. These popular mushroom mainstays make the perfect plump, juicy addition to anoint your summer skewers.
Wishing you good health, and a safe, delicious, celebratory summer.