Continuing Education Training for Yoga Teachers and Healthcare Professionals
with
Cheri Clampett and Arturo Peal
Donation $2300; Deposit $450
Printable Tuition and Application Form | Online Application

In brief tranquil moments when the senses are relaxed and responsive,
when the heart is easy and the mind light, we can hear the voice of silent space speaking...
Awareness responds, and the blessing of healing and knowledge flows forth.
- Tarthang Tulku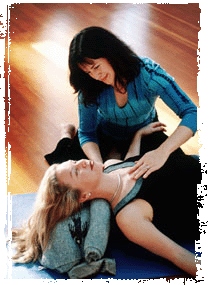 Therapeutic Restorative Yoga is a carefully designed and comprehensive system using gentle, restorative yoga, supported postures, breath awareness and guided meditation. Using readily available props such as pillows and blankets to gently support the body, the benefits of restorative Yoga are accessible even to those recovering from injury or illness. Breathwork, guided imagery and hands-on modalities are also part of this system working to balance the body and ease the mind.
Specifically designed to enhance the body's own capacities, restorative yoga has been used by yoga teachers, nurses and other healthcare professionals to relieve clients' anxiety and pain while safely working with the body in ways that are both restful and rejuvenating. Outside the clinical setting, restorative yoga provides the injured or physically challenged client with a complete modified yoga practice, or with supported modifications, which can be incorporated into any regular yoga routine.
Join us for a beautifully focused, nurturing week at the incomparable White Lotus Foundation Retreat. Nestled in the mountains above Santa Barbara and overlooking the Pacific Ocean on land once sacred to the Chumash Indians who called it Taklushmon--the Gathering Place, we invite you to learn the art of restorative Yoga. Nourish your mind amid old growth forests and replenish your spirit surrounded by waterfalls and hiking trails. This will be a time of reflection, transformation and personal rejuvenation as well as one that increases your skills and abilities to care for others. Gourmet vegetarian food, meditation and much more awaits.
This residential course is a week long certification training covering the foundations of Therapeutic Restorative Yoga. It is  designed to integrate yoga into the mainstream wellness community. In addition to the theory and practice of supported yoga postures and hands-on adjustment techniques, participants will learn:
Physiology of stress and relaxation

Anatomy from the yogic perspective

Implications of scar tissue and adhesions

How to sequence poses

How to integrate postures with breathwork and guided imagery

How to incorporate hands-on techniques

How self-care can be an essential part of caring for others in a professional capacity

Restorative yoga poses and theory

Gentle yoga

Energy techniques

How to give a private Restorative Yoga session
This program is open to: yoga teachers who have completed a basic teacher training, nurses, bodyworkers, physical therapists, occupational therapists and other healthcare professionals (no previous experience with traditional yoga practices required).
Certification and Continuing Education Credits:For nurses, the Therapeutic Restorative Yoga Training is provider approved by the California Board of Registered Nursing for 40 contact hours. For yoga teachers, this course may be applied toward the 300 hour certificate for the Yoga Alliance registry. CEU's are also available for massage therapists & occupational therapists through their respective boards. Upon finishing the required hours, students will be certified in Therapeutic Restorative Yoga.
The yoga therapy components of our course are not derived from our status as an RYS® with Yoga Alliance Registry-- which does not register therapeutic yoga. These components are based upon Cheri Clampett's decades of therapeutic yoga and restorative yoga work at NYU Langone Medical Center, Beth Israel Medical Center, Santa Barbara Cancer Center and her several advanced certifications including her decades of experience in yoga therapy.
Sample Daily Schedule
| | |
| --- | --- |
| 6:30 AM | Personal Morning Meditation |
| 7:00 AM | Morning Yoga Practice |
| 8:30 AM | Light Breakfast |
| 9:30 AM | Morning Curriculum: Anatomy, Breath Work, Physiology of Stress and Relaxation |
| 12:30 PM | Lunch |
| 1:00 PM | Free Time: Hikes, Hot Tub, Sauna, R&R |
| 3:30 PM | Afternoon Curriculum: RY Poses, Private Sessions, Hands-on Adjustments |
| 7:30 PM | Dinner |
| 8:30 PM | Evening Program: Guided Meditation, Safe Touch, Energy Techniques |
HuffPost on Cheri Clampett & Arturo Peal
Participants In Their Own Words
Please See Our Calendar for Dates 
Tax Deductiblity: Your Tuition may be tax-deductible.  For More Information Click Here
Donation $2300; Deposit $450
Printable Tuition and Application Form | Online Application